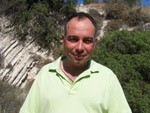 Dear friends,
On behalf of the community council and the community of Limnati, I would like to welcome you to the official website of our community.
On our pages you will have the opportunity to learn about our history, tradition and culture, as well as to admire, through our photos, the unique natural beauties of our village.
We hope that we will attract your interest so that one day we will have the pleasure of having you as our guests in our community where you will be able to see everything you read about on our website in person. 
We are certain that our community's unique natural beauty with its innumerable almond trees and the traditional hospitality of our residents will make a great impression on you.  
Sincerely,
Christakis Chrysostomou
President of the Limnati Community Council