Elias Paraskeva
Mr Elias Paraskeva comes from a family of violinists. As a child he used to sing and write poems, but his goal was to become a violinist.
He dropped out of primary school and worked as an assistant shoemaker both in the village and in Limassol, using his savings to buy his first violin at the age of 14.
He also worked in a factory in Limassol and used the money he saved to pay for his tuition fees. His teacher was Mr Costis Parperis from the village of Pentalia of Pafos. Their lessons included violin and music practice. Next, he continued his studies under the guidance of Mrs Lella Louloupi from Limassol, who taught him the art of the violin.
He found his first job as a violinist in a wedding in Spitali in 1951. At the wedding Elias played the violin and Pantelis from Agios Mamas the lute. The two of them worked together for years. Next, he cooperated with his son in law, Giorgos Pipiros, who had learnt the art of the lute from Pantelis.
Today he continues being a violinist (Violaris in Greek) along with his son Andreas Violaris who plays the lute. The two of them take part in various traditional events.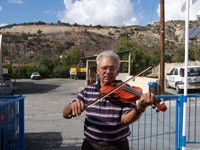 Panikos Limnatitis
Mr Panikos Limnatitis dealt with the countryside and other agricultural tasks.

At the age of 17 he became a car painter in Limassol and, after spending 30 years in the job he abandoned the profession for health reasons. The fumes of the paint affected his health. Therefore, he converted his van into a mobile snack bar making sandwiches. As a result, the radio was his all-day companion and it was on that same radio where he first listened to a show broadcast by the CYBC entitled "Awarded Cypriot Writers" and thought that he had actually experienced everything the guests were talking about.
So, at the age of 59 he started writing poems and produced his first poem titled "Simera tzai tote" (Today and back then). After writing 2-3 poems he sought advice from experts to find out whether his poems were noteworthy. He asked Yiannis Katsouris, Kyriakos Charalambides and Dora Kakouratou, who all encouraged him to continue writing. He recited his poems wearing a traditional Cypriot outfit at the Athens War Museum and in various cultural halls in Limassol.
In 2006 he published his first collection of poems titled "Poros Zois" (Source of Life).

In December 2007 he was awarded with a Praise by the Hellenic Litterateurs' Union for his poem "Agrotissa tis Kyprou" (Woman Farmer of Cyprus).   

Today, he deals with Hagiography and painting.